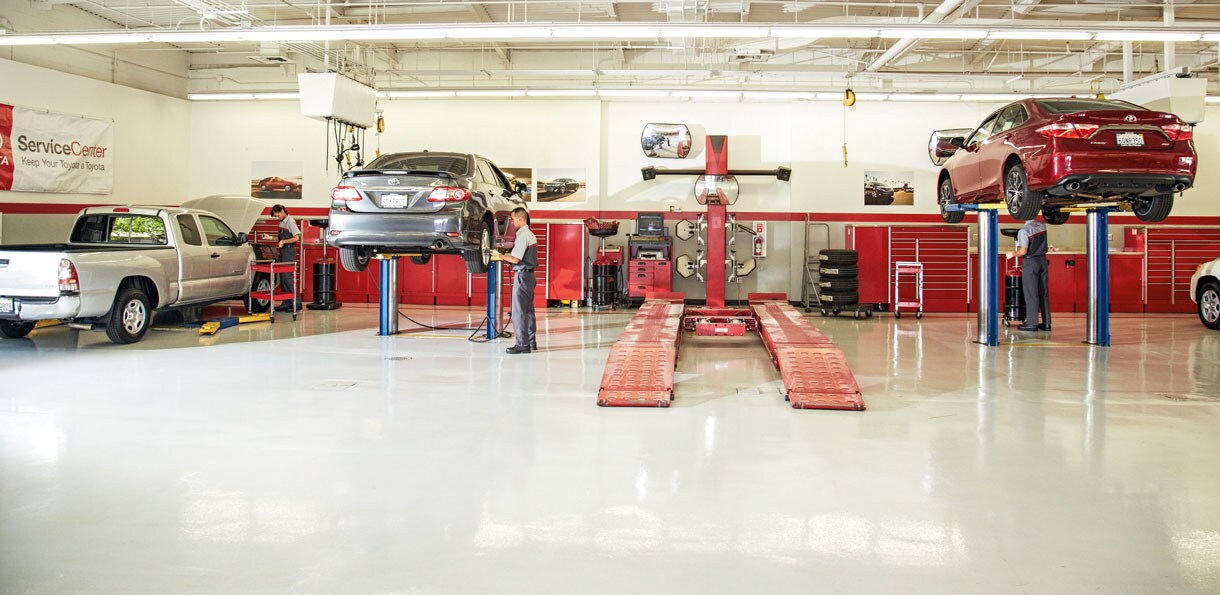 You may have bought your Toyota here at Toyota of Glendale, but why should you bring it back for maintenance and service? We know and understand your vehicle and want to make sure that it continues to be a reliable vehicle for years to come. We know it takes more than a smiling face at the counter to win you over. Let's find out all the reasons why we are the right choice for your Toyota service needs.
Service Technicians Trained by Toyota:  Every technician that will work on your vehicle in our service center has been fully trained at Toyota University and constantly receives updated information about your model. You never have to wonder if your repair technician has the experience or knowledge to care for your ride.
Take Advantage of Your 

ToyotaCare

 and Get to Know Your Service Advisor: If you bought your new Toyota here, you receive a no-cost maintenance plan that takes care of all the basics for the first 2 years or 25,000 miles. If you have any questions about your new vehicle, ask your service advisor. You will get a fast and accurate reply.
Genuine Toyota and Scion Parts for Your Car: Your car was built using Genuine Toyota parts. Does it not make sense to make sure the same quality parts are utilized for repairs and maintenance? We only use OEM parts. You may not know what gets installed in your baby at that other place. 
Toyota Express Maintenance Speeds You on Your Way:  At our service center, you won't have to wait all day to get a simple oil change. Sign up for our Toyota Express Maintenance service and a team of technicians will take care of everything and have you back on the road before you have a chance to get comfortable. 
Where the Service Schedule Works for You:  We have extended service hours Monday through Friday, so you don't have to skip that meeting or the kids' recital because you had to take the car in for a repair. Drop it off early or pick it up after supper. We will be here!
Shuttle Service and Rentals Keep You on the Move:  Sometimes you don't have time to wait for your car. No worries! We offer a free shuttle service ready to drop you off at your office within 5 miles of the shop or use our on-site Enterprise Rent-a-Car service and get on with your day.
Are You Driving a Scion?: Our Service Center is fully equipped and trained to keep your Scion in top condition. You are part of the Toyota family now!
Convenient Online Scheduling: How often have you tried to schedule service somewhere and found out they didn't have time for your oil change? Just click on our online scheduling form, pick your time from the available time slots, and drop off your ride knowing that we are expecting you. 
We have the Specialized Tools Your Vehicle Requires: Did you know that some Toyota parts require specialized tools and equipment to remove them? Another shop might try to fix your vehicle without the right tool and either fail or cause more damage. We will fix it without any of that drama because we have the right equipment. 
On-site Collision Center Provides Bumper-to-Bumper Service: Perhaps you suffered a fender bender and needed a new bumper along with repairs to your brakes. While our service center will take care of the mechanical repairs, our AGC Collision Center is ready to bring back your ride's good looks, all in one convenient place.
Streamline Your Warranty or Recall Repair: Did you know that if you take your Toyota to an independent shop, they will likely charge you for a warranty repair and leave you to apply for reimbursement? Having your vehicle serviced at an authorized Toyota dealer means all warranty repairs or recalls are made without charging you a penny out of pocket.
Easy Access to Your Entire Service History: Once you visit our service center, your vehicle's maintenance history is logged in our system. Should you ever wonder if you skipped a maintenance cycle, we can look it up quick and easy and even offer a full print out for you to take home.
A Comfortable Guest Lounge while You Wait: Nobody likes to wait. We make it as stress-free as possible with comfortable seating, a big screen TV, and free WiFi. 
In the end, the answer is clear. At Toyota of Glendale, you will receive fast and efficient service designed to keep you and your Toyota running without causing any extra bumps in the road.